186. Take Two, GTA Definitive, Cowboy Bebop, Spiderman, and More
1 month ago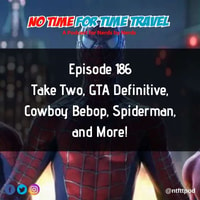 Episode #186. Take Two, GTA Definitive, Cowboy Bebop, Spiderman, and More
Tony and Quoc record another episode this week talking about the Take Two's attempt to trademark/sue everyone, the master failure of GTA Definitive, impressions of Netflix's live action Cowboy Bebop, Spiderman No Way Home, Megaman live action, and more! Ending the episode is 20 questions, Spiderman edition.
========== Follow us on
Twitter
Facebook
Instagram
YouTube
Patreon
Stream us on Twitch!
Visit our site at www.ntfttpod.com !
You can contribute by emailing us at [email protected]!
Hurdy gur and warp speed!
Support No Time For Time Travel Pod by contributing to their Tip Jar: https://tips.pinecast.com/jar/no-time-for-time-travel-pod
Find out more at https://no-time-for-time-travel-pod.pinecast.co
This podcast is powered by Pinecast. Try Pinecast for free, forever, no credit card required. If you decide to upgrade, use coupon code r-e52a8a for 40% off for 4 months, and support No Time For Time Travel Pod.